Some gardens don't have it simple. This one gets drainage from above, plus it's subject to flooding along its lower portion. If that wasn't enough, the soil is non-draining clay. The solution? Pick plants adapted to the site, of course.
The garden had been in for about a year when these pictures were taken, and it's progressing well.
The lower portions take advantage of native shrubs and grasses that grow in wet or boggy conditions: button bush, sedges, rushes, red twig dogwood…
The drainage passes under a low bridge made from pressure-treated wood and is filtered by a small meadow planted with native tufted hair grass and sedges. So, even if there is some sediment flowing off the slope or the driveway, the intent is that it will enrich the meadow instead of silting up the stream.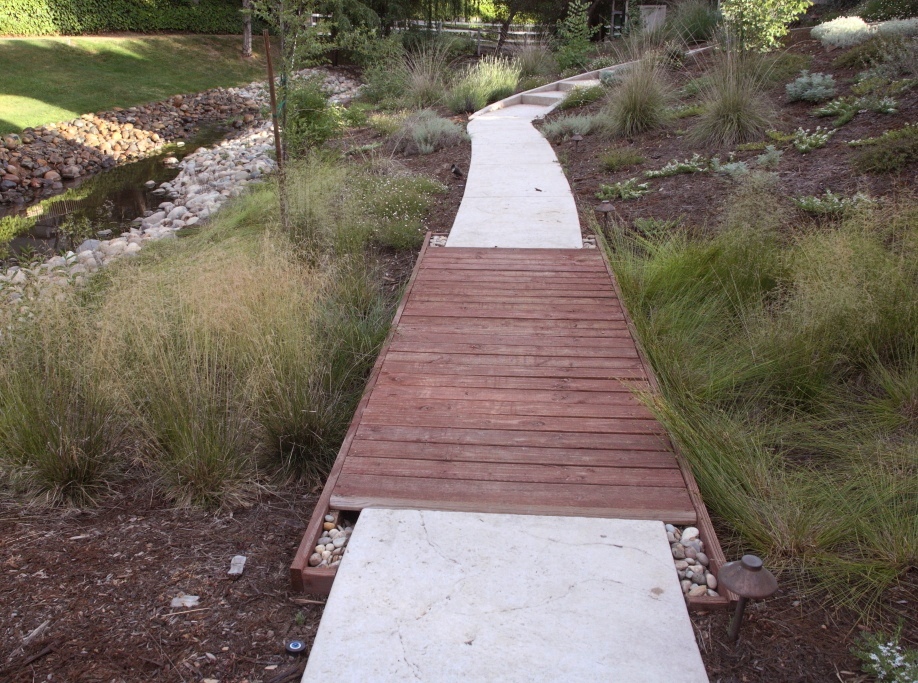 Further up the slope, redbuds, toyon, deer grass, California fuchsia take over, blending with coffeeberry and other plants and taking advantage of increased drainage provided by the slope. There are a few Mediterranean plants for variety: Powis Castle wormwood, rock rose, snow in summer. For fast cover, there are some patches of Myoporum – the closest thing there is to an instant ground cover.
Some plants are somewhat short lived, and will die out to leave place for other plants to spread as the garden grows – so it won't look bare in its early years, but won't become as crowded as it would if all the plants were to compete with each other.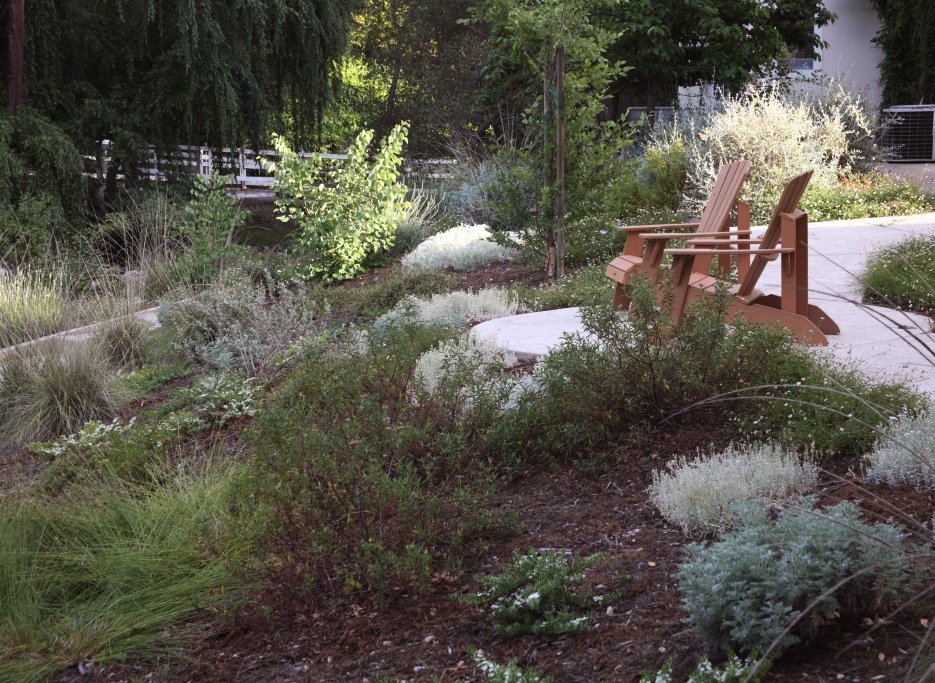 Two chairs look out over the stream toward the neighbor's lawn, a study in contrasting garden design approaches. This side has nectar for butterflies and hummingbirds, plants that will thrive if the stream floods, color and interest that changes with the seasons. The other is constantly lush, simple and green.
As the river birches grow, the upper area will become a shady haven looking out over the sunnier lower garden. Other plants will grow with time, blocking views of a culvert and making the stream banks look more wild. There will be a bonus for wildlife, too, as flowers bloom and fruits ripen.
As their roots grow downward, they should reach underground water from the stream, reducing or eliminating the need to provide supplemental irrigation. The plants farther up the slope, when established, will require little water.